HaHa- JiHyo shipper, anyone?
Is anyone a Haha-Jihyo shipper here?
There arent many lovelines for this couple in RM but i think they're so cuteee together/
I love how they kinda fight with each other lol.
Ep.20, Ep.24 have their moments. any other ep.?
Although I am an avid Monday Couple shipper, I do have a soft spot for Haha-Jihyo.

Episode 20 was exploding with Haha-Jihyo moments!

He's just hilarious when it comes to Jihyo, but in a different way than Gary.

I actually think Haha would totally go for it and establish a loveline, but he holds back for the sake of his hyung (also displayed in episode 20). It's quite lovely (:

Haha-Jihyo over Song-Song Couple any day!
I was always a haha-Ji hyo fan, I love them better the monday couple, hope their be more funny love-lines
I like Monday Couple, but JiHa -Jihyo & HaHa :P- are adorkable together. I love how they interact with each other
HaHa love to make fun of her, she always turn Bad Jihyo with him.
No way. XD
I prefer their feuding 'relationship". With a sprinkle of niceness here and there.
Monday Couple Forever~
I think they're cute together, too. It's not necessary for them to have a love-line but I definitely like it when they're arguing. Pure fun!
If you notice, HaHa and JiHyo are really comfortable around each other even from the start when JiHyo first joined RM! Joking and teasing or even threatening each other,lol! So maybe they're close! Who knows?
Anyways, I love them both, they're my bias in RM (along Jaesuk) so of course I would be happy if they're together. However, their relationship right now is good enough for me. RM already has Monday couple and Song-Song couple. It's a handful already, no need for any more lovelines.
Yxz3
12 Mar 2011
i love them together. xD
and i thought i was the only one secretly shipping them LOLOL.
but they are soo funny/cute together.
they have good chemistry
but i also adore monday couple D:
GAH; so hard to choose LOL.
@Yxz3
Yeah! agree:) I think they have good chemistry, so comfortable and keep teasing each other.
I was a Monday Couple lover but it's just recently that I started to be biased towards Haha(watch him on the other show, love him!)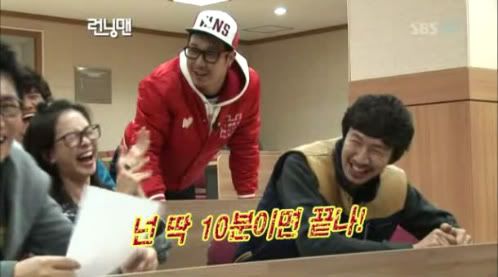 Songjihyo said in HappyTogether ss3 that she likes aegyo guy, and guess what Haha is!
In ep 10 though (in the art gallery) it was HaHa who first suggested to leave both Gary and JiHyo behind...
i have always loved haha-jihyo. but now you can't really see HaHa trying to get in between the Monday couple anymore. hmmmm. but yea, wish I could see them quarrel some more.